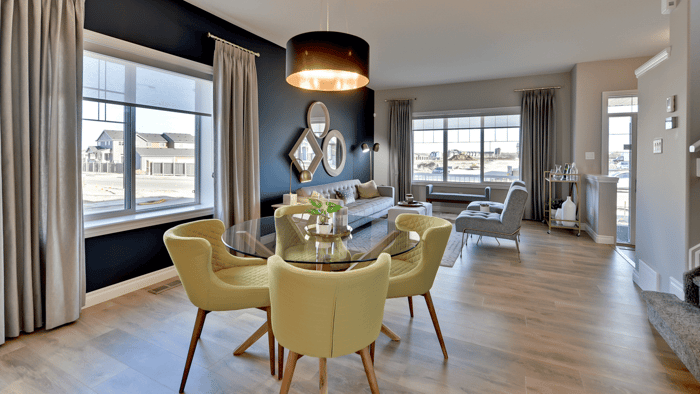 You've looked at a variety of potential investment property types so far: duplexes, infill homes, suited homes, garage suites - and maybe they don't seem quite right for you. Luckily there are still some more styles to choose from, and a single-family home could be perfect for your needs.
Let's take a look at some of the benefits a single-family home can offer you.
What is a Single Family Home?
When most people think of their "ideal" family home, this is the type of house that comes to mind.
A single-family home is a unit where there is only one tenant (or family) in the house and there are no secondary suites.
There are a variety of styles and price points, depending on what you're looking for in your investment portfolio. This can include a rear lane home with the garage in the back, a front-attached garage style or even a single half-duplex home.
The key point is this type of home offers families space, privacy, and safety.
Benefits of a Single Family Investment Home
A single family home has some amazing features and benefits as a real estate investment property, so let's take a look at some of the key things.

Attractive Tenant Profile
A single-family home tenant profile typically consists of a mom, dad, small child (or two) and perhaps a dog or cat. They don't want to share a home, garage, driveway or yard with other people – they want their own space.
Most often these folks are ready to buy a home but can't make it happen at this time. Reasons for this could be:
they are still saving for the down payment
they have consumer debt that is pushing their mortgage qualification offside or
the most common scenario we see, they have vehicle loans that have several more payments.
This is great news for us as investors because these people create the opportunity to have great tenants in our homes. They tend to have good jobs, earn a great income and want to live in the type of home that they would otherwise buy. They want to settle into a community that offers great schools, recreation facilities, convenient amenities and good access to transportation.
It's common to see these tenants stay 5+ years. After all, if the home they're living in already has everything they want, there's not a lot of pressure to move into something else. Tenant longevity makes single-family homes incredibly efficient to own and manage.
Consistent Performance
It's true, by only having one tenant or income stream these homes do not produce as much monthly cash flow as a property with a secondary suite. However, based on our experience, they may, in fact, produce a better ROI long term or over your term of ownership.
Wait… what?
Let me explain.
Every time you have a tenant turnover it costs you money. There could be repairs, cleaning the property, re-marketing for rent, screening tenants, setting up showings, processing applications and maybe even sitting on a vacant property for a month or two. By considering these variables it could quite easily cost several thousand dollars to get your property back to producing a cash flow again.
Because tenants typically stay longer in a single-family home, you can mitigate these costs and increase your ROI by not spending your cash flow on tenant turnover costs. There's no sense making several thousand dollars a year in cash flow if all you're going to do is spend it on tenant turnover expenses!
Remember, every time you have to put cash in or towards your investment, it reduces your overall ROI.

Great Long Term ROI
Beyond the increased ROI from keeping tenants longer, you can often net great profit margins with single-family homes. Yes, with something like a suited home, you have multiple streams of income. But you have to remember that adding a suite to a home build increases the purchase cost of the property. A single-family home is generally going to be more affordable than a suited home.
On top of that, the tenants you're going to attract with a single-family property are ready to pay top dollar for the experience. They know they can get a cheaper rental unit if they choose an apartment complex or have someone living in a basement suite.
But that's not what they want.
They want space and privacy, and they know this is going to cost a little more. More than that, they're willing to pay to get exactly what they want.
Liquidity and Market Appreciation
A single-family home appeals to a wide audience. They are not only attractive to us as investors, but they are also attractive to a large retail audience. This includes first-time home buyers and people who are downsizing.
On the other hand, suited homes and other types of investment properties have a smaller appeal. Someone looking for a family home isn't likely going to be impressed by an in-law suite unless they're specifically looking for that feature.
Additionally, most single-family home investments are in the $325,000 - $375,000 range and based on history, this has been the highest demand price range in the resale market. Because of this, single-family homes typically sell faster and for more money if and/or when you make the decision to sell the property.
Time Saver
Sound a little strange? Well, how much is your time worth? Single-family homes have proven again and again to be a consistent performer, with not a lot of time input from you. If you have a busy lifestyle and don't have a lot of time to put towards your real estate business, a single-family home is a great addition to your investment portfolio.

There are major benefits for you as the owner as well - the checklist of features most renters want is usually filled by these homes. Things like parking, storage, neighbourhood amenities and more - these items are all found in and around single-family homes and their neighbourhoods.

Plenty of Options
Single-family homes really do give you and your tenants a lot of options, especially if you opt for a new construction property.
(Psst - if you're interested in a new home build, make sure to sign up for our newsletter. You'll get our newest opportunities sent straight to your inbox!)
Now, we were saying...
Going for a new construction build allows you create the perfect home with all the features your tenants will love!
For example, a bright, open floor plan is what today's family wants. A large and spacious kitchen so they can see the whole main floor. This means easy entertaining, a smooth transition from prepping and cooking to sitting at the table and enjoying the meal. Bedrooms that offer privacy to all family members and a master suite with an ensuite means everyone is comfortable.
How to Find the Perfect Single Family Property
If you think a single-family home is the right choice for you, the next thing you need to do is decide exactly which one you're going to buy. There are a lot of options, and it can feel overwhelming, especially if you're just starting out with real estate investing.
That's where we come in.
At TriUrban, we have a full team researching which areas and properties are going to make for the most successful investments. We can find the right property in the right location for you and your unique investment and lifestyle goals.
If you're interested in getting a great property at a great price, head to our Investor Page to get started working with us! If you'd prefer, you can book a consultation and we'd be happy to help with any questions you might have.

Originally published Mar 5, 2019, updated July 22, 2020.