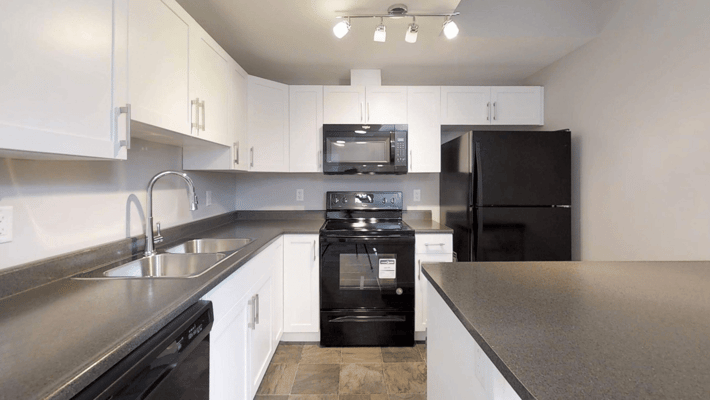 Naturally, when you decide to buy an investment property, you'll want to select a home style with plenty of features that will appeal to renters. Envision potential tenants touring your suited home, garage suite or duplex. What features will they be looking for?
Learn about eight appealing features for renters so you can garner an investment property that stands out from the crowd.
A Friendly, Conscientious Landlord
Necessary Amenities Schools Close By
A Safe Neighbourhood
Adequate Parking
Plenty of Storage
A Laundry Room
Lots of Natural Lighting
A Modern Kitchen
1. A Friendly, Conscientious Landlord
Let's be real here. People want (and deserve) a landlord who is friendly and takes care of the property. A landlord who makes a good impression during the initial meeting and tour can, many times, be the deciding factor when renters make their final decision. A courteous landlord:
Responds to a tenant's phone calls or emails in a prompt manner
Offers contact information right away
Takes pride in the property
Handles any maintenance issues as soon as possible
And so on...
2. Necessary Amenities Close By
Many renters want to find a place located near all the amenities they need. So as in all things real estate, the location is important.
Shopping
A suited home or duplex located near a grocery store, clothing shops, pet supplies store, and others is a huge plus in today's rental market. In fact, many people who rent want to be within walking distance of at least one shopping centre.
Recreation
An investment property located near a movie theatre, gym, community swimming pool or a recreational facility is going to appeal to many who don't want to travel far to have some fun.
Schools
When it comes to a family as a possible tenant, you can bet they're going to want a selection of quality schools located nearby. A neighbourhood that has schools within walking distance is an ideal option. Be sure to look for an investment property near schools catering to young children, tweens and teenagers.
3. A Safe Neighbourhood
This ties in very closely with our previous point. When looking for an investment property consider the overall feel of the neighbourhood. Are the neighbours outside walking their dogs? Are kids out riding their bikes and playing? These things are some good indications the neighbourhood is safe.
Other things to look for in a safe, inviting neighbourhood:
Clean, well-kept homes and lawns
Well-maintained sidewalks
Nearby playgrounds
Walking trails and greenspace
4. Adequate Parking
When potential renters drive up to your investment property, they take immediate notice of the parking situation. This is why adequate parking for tenants is so important when considering any investment property.
Is there a garage and/or a driveway? Will they be parking on the street? Rear lane access?
Alright, let's move to the home itself, shall we?
5. Plenty of Storage
Have you ever heard someone tell you they have too much storage space? Didn't think so! With that in mind, there are some key areas of a home that you want to ensure satisfy those storage needs.
The Kitchen
A pantry in the kitchen is extremely practical - bonus points if it's the walk-in or walk-through type. Many potential tenants like the idea of being able to store and organize their canned goods, spices, pet food, cookware, etc. separately rather than using precious cupboard space.
The Master Bedroom
A walk-in closet in the master bedroom is another enticing feature for potential tenants. Many people like the thought of having additional space to organize and display their clothing, shoes and accessories. Plus, it can add an extra dose of elegance.
Closets and storage throughout a home is something many people overlook. It's assumed there is a linen closet and other options. Make sure your tenants aren't disappointed.
6. A Laundry Room
To be a little more specific: their OWN laundry room. Sounds a little silly, right? Well, if you're looking at a suited home as a potential investment property, you want to make sure each suite has its own laundry room. No one wants to worry about someone else touching their laundry and no one wants to collect their clothing and head out to the laundromat.
7. Lots of Natural Lighting
Look for an investment property with lots of windows so you have plenty of natural light flowing in. This creates a warm, inviting feeling. As an example, garage suites have a design particularly popular with renters who enjoy living in a place with lots of natural light.
8. A Modern Kitchen
Whether a potential tenant loves to play in the kitchen or just enjoys making a snack, most would agree that this area is the glue of a home. Most people gather in here, and why not! It's where the food is!
Not surprisingly, an island is one of the first features people look for. They're likely to imagine themselves and their family eating a snack and chatting, or mom prepping dinner while the kids finish up homework. An island is almost necessary for today's kitchens.
A collection of gleaming, energy-efficient appliances in the kitchen of a rental duplex or garage suite is definitely an appealing sight. It also reinforces the feeling that you, as the landlord, care about the property and the tenants.
Lastly, it's helpful to create a list including these features as well as any others you think would be enticing to renters. That way, you can evaluate an investment property in an efficient way to make sure it has everything you want for your tenants. By taking these considerations into account, you can set your properties apart from others in the rental market, which means you can attract a higher-quality tenant.