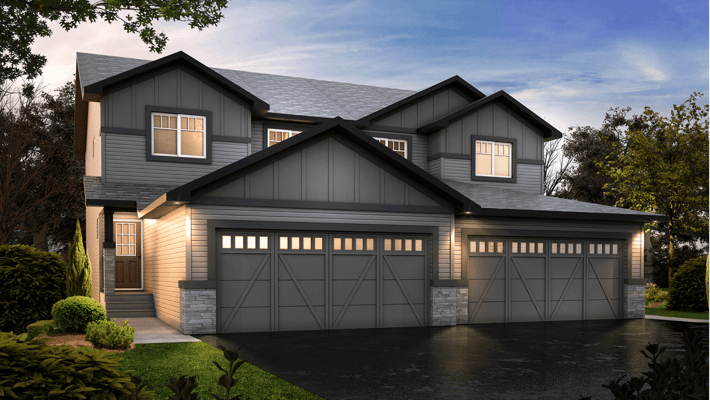 Are you and your family looking to leave behind apartment life and move into a brand-new starter home? Maybe you're a long-time homeowner who wants to make an upgrade. Maybe you ready to stop renting and enter home ownership? Whether you want a home for your family or are looking for a great investment property, a duplex offers a sizeable and attractive floor plan along with many other desirable features.
A Beautiful First Impression
When you walk into our duplex home model, you step into an airy foyer where you can tuck your jacket or coat into the large closet and make your way toward the main living area. Be sure to make a stop in the attractive half-bathroom to wash your hands and freshen up before heading toward the kitchen.
A Spacious Dream Kitchen
The design of our duplex has many highlights to offer its owners or individuals who may be renting this home. One of the brightest highlights is the kitchen. Imagine enjoying a casual meal, a snack or a pleasant chat with family members at the kitchen island's breakfast bar. The island also has a sink and lots of counter space for meal preparation.
A gathering of stainless-steel appliances such as a dishwasher, refrigerator, stove and microwave make this kitchen modern as well as attractive. There's also a huge pantry with built-in shelves to hold your canned goods, dry ingredients, and extra pans, along with any other items you want to store.
A Comfortable Living Room
Do you like the idea of having an airy room in your home where you and family members can just relax and hang out? This living room just what you need! The natural light pouring in through the windows combined with its open design makes the living room a pleasant place for family to spend time together.
A Versatile Dining Room
The dining room can be used for everyday meals as well as formal meals served on holidays and celebratory occasions. The large windows in the dining room contribute warmth and set an inviting tone in the space.
A Deck for Parties and Other Gatherings
Barbecues, outdoor birthday parties, baby showers and graduation parties are just a sampling of the activities you could enjoy on your new deck. Maybe you like to sit outside to read during the warm weather months. Or, perhaps you'd like a quiet place where you can relax and observe the birds and other animals that make their home in Alberta. If any of the above sounds like you, the deck of these duplex homes has a good chance of becoming your favourite place to be!
A Gorgeous Master Bedroom and Bathroom
The master bedroom is another special highlight in the design of these duplex homes. You enjoy a large bedroom with lots of natural light that you can enhance even more with your choice of décor. The space can easily accommodate a large bed and a dresser along with other stylish furnishings.
The master bath features a double sink along with durable, as well as stylish, quartz counters. The bathroom counter provides an abundance of space for your toiletries, makeup, perfumes and more. You and your partner can chat as you get ready for work in the morning in your own private bathroom.
A Walk-In Closet
If you want a home to purchase as an investment, the walk-in closet in the master bedroom is sure to be very appealing to potential renters. There are built-in shelves for shoes, hats, folded items of clothing and more so that everything has its proper place. Suits, pants, blouses and scarves can all be hung up with room to spare in this elegant walk-in closet.
Two Extra Bedrooms with Lots of Space
The two extra bedrooms on the upper floor provide you with options depending on the size of your family. If you have two teenagers, they can each enjoy their own room. Or, if you're expecting a new addition to the family, one of the rooms could be made into a nursery or either could serve as a guest room for visiting friends. Both rooms are located near a large bathroom with a bathtub.
A Conveniently Located Laundry Room
The laundry room on the upper floor provides convenience to family members. They can drop off their soiled clothing just down the hall from their bedroom. Built-in shelves can be used for bottles of laundry soap, fabric softener, bleach and other washing-related items. The upstairs laundry room makes washing day easier for a busy family.
Other desirable features in these duplex homes:
A double car garage with an interior entrance to the home. You don't have to get out of your car in the rain or snow!
A beautiful feature fireplace in the living room
Ample closet space in the two extra bedrooms on the upper floor
As you see, our duplex home model has many appealing features around every corner. Whether you want a comfortable, brand-new home with plenty of space for your family or you're looking for a home to buy as an investment, our duplex design has something for everyone! Contact our team today and learn more about this beautiful, practical home.