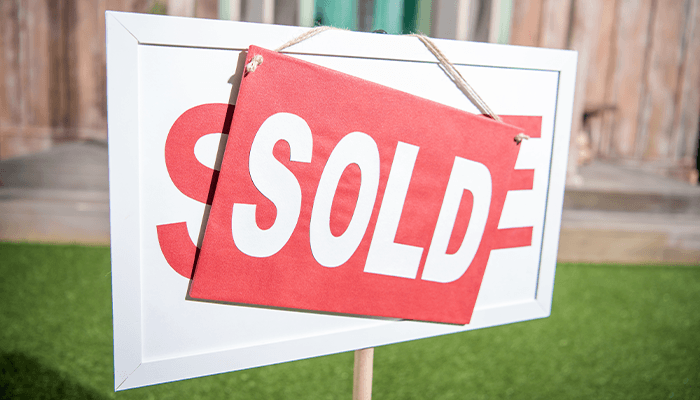 There are many reasons why you feel it's time to sell a rental property - maybe you're thinking about selling your rental property after deciding that real estate investing wasn't for you, or you're noticing changes in the market that could mean big profits from selling the property you own.
Whatever your reason, selling a rental property can seem daunting. There are a number of details that you need to pay attention to in the process, but if you're able to do this, you can easily maximize the sale value and exit quickly.
Let's break down some of the things that you'll need to consider.
Tenant Lease Expiry
First things first - do you currently have tenants in the property? This will affect how you sell the property.
On one hand, having the tenants in place is a great selling point for your property - it's turnkey, so a new investor can make the purchase and immediately start making money! They don't have to do the hard work of finding and screening tenants.
On the other hand, having the tenants in the property can make it harder to schedule showings and any maintenance or repairs you may need to do in order to get the property ready for sale.
If there are no tenants currently in the property, you have a good opportunity to make necessary repairs, clean the property, and make it shine before listing it for sale. In some situations, you may need to wait for the tenant lease to expire before you can make this happen but most often it is the best way to attract a buyer at maximum value.
Mortgage Date Expiry
The date that your mortgage expires can make a difference in the sale of your rental property.
Why would the mortgage expiry date matter?
If you break the mortgage agreement prior to the agreed term expiry the lender will most likely charge you a prepayment penalty. Think of this similar to a fine for breaking the contract of the mortgage.
Prepayment penalties are based on a number of factors, but the closer you are to the end of your mortgage term, typically, the lower the penalty.
Think carefully about the mortgage expiry date when you decide to sell. If it's only a year away, it could be better to wait just a bit longer. Regardless, contacting your lender prior to listing for sale to understand any prepayment penalties is a great way to avoid any surprises.
The Cost of Prepayment Penalties
Let's say you do decide to sell the property before the mortgage term is over. You'll have to check your mortgage contract to see just how much this can cost you.
The prepayment penalty could either be a) a three months' interest penalty or b) the interest differential rate (IRD), and trust us, there can be a big difference in the amounts between the two scenarios
Banks calculate IRD by figuring the difference of the interest you'd pay for the balance of your current term at your selected rate, versus the interest you'd pay for the balance of the same term at today's interest rates. Typically, if you are paying out a mortgage that is at a higher rate than what can be attained in today's market the lender will charge you the difference – Interest Rate Differential.
The easiest and safest way is to contact your lender and ask. Better yet, ask them for a mortgage payout statement to the estimated date you think you might be closing the sale of your property.
Capital Gains
If you're selling the rental property for more than you purchased it for (and really, that's the goal!), you'll have capital gains, and you usually have to pay tax on this money.
The actual amount depends on the profit you earned and on any income you have.
For instance, if you originally acquired a property for $150,000 and can now sell it for $225,000, you would have a $75,000 gain at disposition and could be subject to paying a capital gains tax on that amount. Having a great accountant on your team and seeking their advice prior to listing your property for sale is always recommended.
How Should You Sell Your Property?
As you well know, different types of properties attract different types of buyers. You need to take this into account when it comes to selling your investment property.
If your property is something like a multi-plex or a home with a secondary suite and tenants in place, you could easily sell this as a turnkey opportunity to other investors. If it's in good shape and produces great cash flow, you'll likely have people flocking to make a purchase like that.
On the other hand, if you own the type of property that would appeal to a single-family buyer, a young couple starting out, or a retiring couple, like a townhome, half-duplex, or a detached home, you may be better off marketing it as such. This would mean having the tenancy expire, getting the property tidied up to be listed as a vacant quick possession property to attract a wide audience of buyers.
There are lots of things to consider as you think about selling your rental property, but you don't have to fear the process. There are people who can help you along the way. As a company that's focused on working with investors, we have unique experience that can help you get the best price for your property. If you feel it might be time to sell, we've created a simple form where you can tell us more information about your property and we can help you maximize your property value!