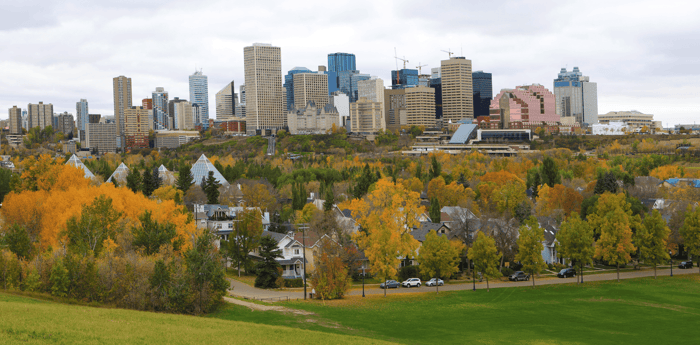 When most people think about real estate investing in Canada, the first places they generally think of are large metropolitan areas, such as Vancouver and Toronto. While these are historically successful areas, they can also be difficult for new investors to get established in, as the prices tend to be very high with narrow cash flow margins.
Instead, it might be worth considering focusing on a smaller, up-and-coming city in comparison. Edmonton is a great candidate!
Ready to learn more about Alberta's Capital City and why now is the time to invest here? Keep on reading, then talk to us about acquiring your investment property.
A Very Stable Real Estate Market
Younger Population
Government-Supported City Growth
Increasing Job Market
A Buyer's Market
Strong Recovery From COVID-19
TriUrban Can Help You
A Very Stable Real Estate Market
Edmonton has generally had an extremely stable real estate market. For the past 20 years, we've seen some slight fluctuations with a general upward trend in the value of real estate, which is far less volatile than what you'd find in some of the bigger cities.
The combination of low real estate prices - particularly in new construction - and and demand for rental units is perfect for real estate investors. When you take advantage of our expertise in a variety of income property styles, you'll be able to demand top dollar for your rental units.
They don't call us the "New Construction Experts" for nothing!
Younger Population
One of the things that makes Edmonton an appealing area for investors is that the population tends to skew younger: the median is 35.6 years of age.
As a real estate investor, this means you'll see a higher number of potential tenants here because younger people aren't quite ready to buy their first home. There will always be a market for your rental units.
In addition, people in this age range are likely to be attracted to the types of units you can buy with new construction homes. Rather than large buildings with several small units - and not a lot of personality - the trend is for investors to buy properties that feel more like real homes: duplexes, suited homes, duplexes, and detached homes with basement and/or garage suites.
A single professional or college student might be looking for something like a basement suite, while a young married couple just starting a family will appreciate all the space they'll get in a duplex.
Furthermore, new construction homes are far more stylish than traditional rental units, which means that tenants are willing to pay premium rent to live in a place that looks well put-together.
Government-Supported City Growth
The rapid growth in Edmonton isn't just caused by consumer demand - the municipal government is also putting a lot of effort and resources into improving the city.
As well as building and maintaining new schools and parks, the recently finished Rogers Place Stadium and completely renovated Stanley A. Milner Library, there's also huge LRT and transportation expansion projects happening right now.
There's a bit of everything in Edmonton, and this is a big attraction. Investors should take note because city-planned infrastructure like public transportation and free flowing major thoroughfares and freeways are especially attractive to renters.
With almost every part of the city currently expanding and improving, property value can only go up.
Increasing Job Market
There's no doubt that one of the biggest signs of the stability of a city is the presence of a strong job market. While the city has traditionally had a robust market in the natural resources industries - which can experience some ups and downs - other job industries have seen some gains, including construction, transportation and warehousing, and education.
The recent announcement from Alberta's provincial government lowering corporate taxes to a national low will induce large corporations to move business to Edmonton.
The increase in available jobs will attract people from out of town, and Edmonton will see a wide array of people moving here from other provinces and even from other countries. In fact, Edmonton consistently ranks as one of the best Canadian cities for job-hunters.
This is great news for real estate investors because these newcomers tend to be looking for rental units, and they tend to rent for longer periods of time as they try to save up a down payment to buy their first home.
A Buyer's Market
Edmonton was already a buyer's market before the current COVID-19 crisis hit, and although these are uncertain times, this trend will most likely continue for the next few months.
Supply in housing has generally kept in balance with demand over recent months as the lockdown had put people off buying and selling homes temporarily. Now that health restrictions are being lifted as part of a phased approach with lock down measures, the housing inventory along with demand from buyers are dramatically increasing. This means now is a great time to purchase an investment property - before demand starts exceeds supply.
With a growing demand for high-quality rental properties, this puts you in a good position to find a tenant right away.
A Strong Recovery From COVID-19
Speaking of the COVID-19 crisis, Edmonton is on track to recover quite well from the economic downturn caused by the virus. While the effects are being felt everywhere, and Edmonton is no exception, the provincial governments recovery initiatives and economic stimulus plans will undoubtedly yield accelerated positive results in the Edmonton region.
While nobody can predict the future, these numbers are certainly encouraging for a return to normal and beyond relatively quickly.
TriUrban Can Help You
At TriUrban, we're dedicated to getting to know everyone who chooses to work with us on a more personal level so that we can help you find the home that is best suited to your investing goals.
We've often been called the New Construction Experts, and we like the title so much we've decided to adopt it. Our team of real estate professionals has done a lot of research into, and has a lot of experience with the Edmonton real estate market, and we have come to the conclusion that new construction is the best way to go.
Whether you already live in Edmonton or are thinking about long-distance real estate investing, Edmonton has what you're looking for. At TriUrban, we're here to help you every step of the way.
Originally published Nov 13, 2019, updated Jun 24, 2020