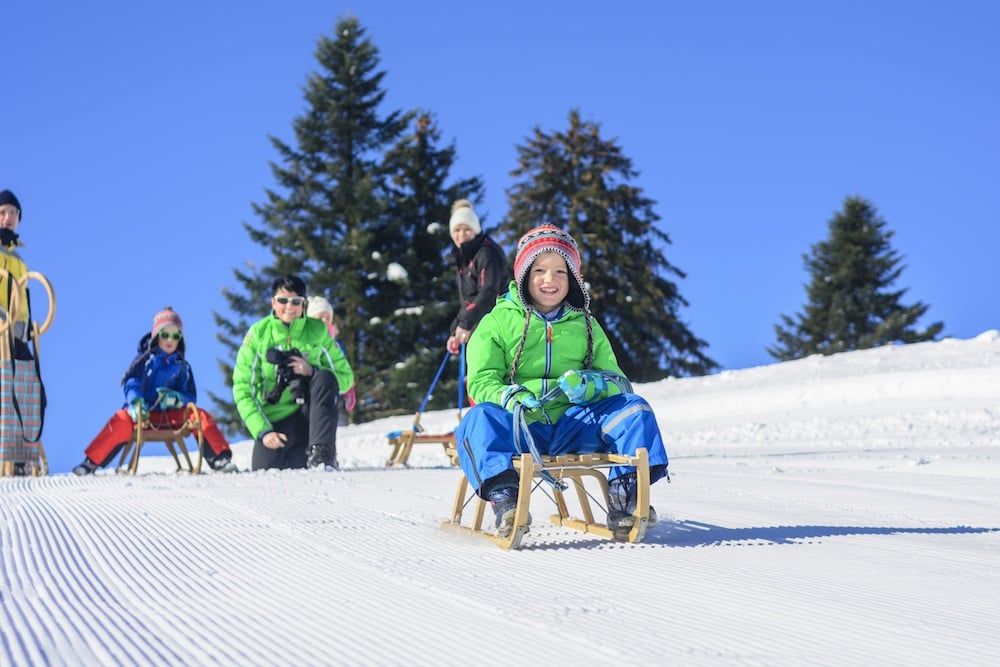 We all know that Edmonton winters can be cold and harsh, but you don't have to let that stop you from enjoying the city this winter. In fact, if you learn to embrace the cold a little, there are actually a lot of great things to do in Edmonton in the winter. Check out our top ten favourite things below:
Learn to Ski
Learn to Skate
Check out Ice on Whyte
Take in the Legislature Lights
Watch Some Hockey
Explore The Ice Castle
Take the Kids Tobogganing
Warm Up in a New Café
Cross Country Ski at Elk Island
Give Back and Enjoy Candy Cane Lane
Here's some more information on all of our ten activities:
Learn to Ski or Snowboard
If skiing or snowboarding is something you or your family hasn't tried before, Rabbit Hill is an excellent place to learn. The small hill offers ski and snowboard lessons and calm, beginner-friendly trails to get started on. Pick a day when the sun is shining and you'll find you don't even notice the cold after a few hours on the hill.
Learn to Skate
Don't know how to skate? Finding a good place to learn won't be a problem in Edmonton this winter. There are plenty of options for skating –both indoor and outdoor all over the city. If you already know how to skate, or if you're just learning and looking for a fun, unique skating experience try the Victoria Park IceWay. A three-loop skating trail through the forests of the park is something you won't find in many other places.
Check Out Ice on Whyte
Happening this winter from Jan 24-17 and Jan 31-Feb 3, 2019, the annual Ice on Whyte Festival is exciting and interesting for all ages. Head down to Whyte Ave one evening and see the amazing ice sculptures while enjoying some warm food and drinks. Tip: Live in a Boardwalk apartment? You can get free tickets to the event!
Take in the Legislature Lights
If you find yourself without anything to do one December evening in Edmonton, take the family to the Legislature grounds downtown to see the Christmas lights. We promise – this isn't an ordinary light display. Many find themselves walking through the ground for hours just looking up into trees full of lights.
Watch Some Hockey
You don't have to be a hockey super-fan to enjoy the experience of attending a game. If you've never been, seeing an Oiler's game at Rogers Place is an experience you won't soon forget. If something a little smaller-scale is more your pace, take in an Oil Kings game instead.
Explore the Ice Castle
A relatively new tradition for Edmonton, the Ice Castle has only been around for a few winters now, but it's something everyone should see once. An entire castle made of ice is a viewing experience you can only get in a winter city like ours.
Take the Kids Tobogganing
What kid doesn't love sliding down a snowy hill on a little piece of plastic? Edmonton offers plenty of great places to toboggan –including some that have been set up with safety signs and reduced hazards just for that purpose. You can check out some of those hills here.
Warm Up in a New Café
When you start to get a little too cold after all those outdoor activities in Edmonton this winter, a café is a great place to warm up. We suggest trying out one you haven't been to before. You never know when you're going to find your new go-to coffee shop.
Cross Country Ski at Elk Island
Up for a little road trip? Head just south of the city to Elk Island National Park for a day of cross-country skiing. There aren't a lot of opportunities to try this activity inside the city, and the park will offer unique views and experiences for the whole family.
Give Back and Enjoy Candy Cane Lane
If you haven't heard of Edmonton's Candy Cane Lane, it's about time you checked it out. One of Edmonton's most popular winter activities happening close to the holidays, Candy Cane lane is a few blocks where the residents have all committed to decking out their homes in extravagant Christmas lights. The giving back part? All along the streets, you can donate non-perishable food to the food bank.
Is one of your winter plans this year buying a new house in Edmonton? We can help you with that! Check out all of our current featured listings or have a more unique real estate experience by signing up for personalized listings based on your values and lifestyle.