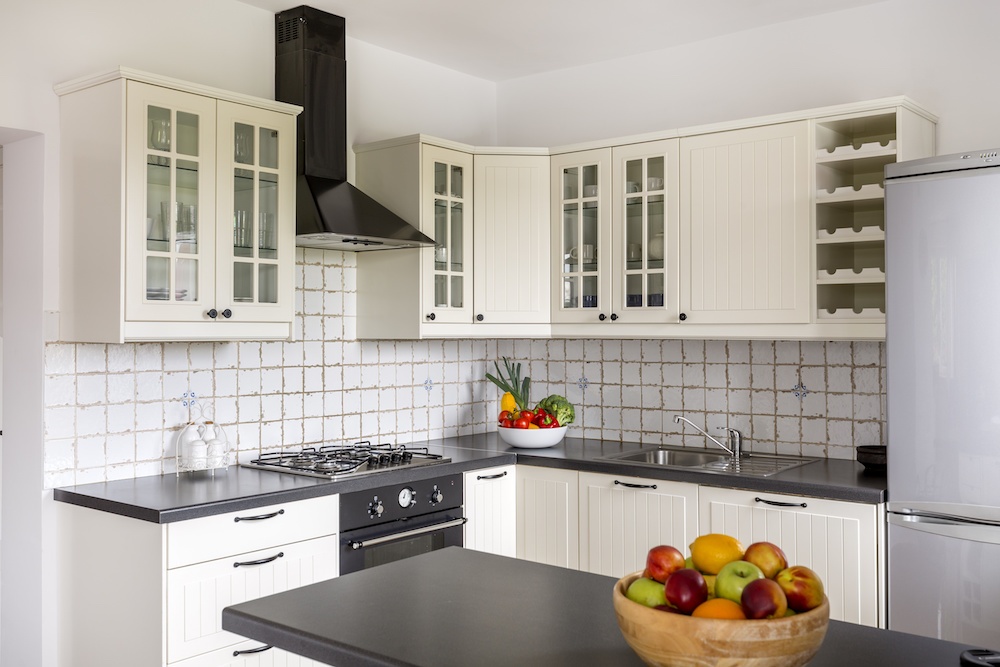 When searching for a home, one of the most common rooms that people want to be "big" is the kitchen. It makes sense since, for many people, a lot of time is spent in that particular room and a lot of activity goes on there. Unfortunately having a large kitchen isn't always possible, especially for fist-time homebuyers who often end up in "smaller" houses overall.
6 Ways to Maximize Space in a Small Kitchen
The good news is, there's a lot you can do to make the most of the space in a small kitchen. You don't have to take on a big reno to do these things – in fact some require no construction at all. Here are 6 great ways to maximize space in a small kitchen.
Increase Cabinet Space with External Storage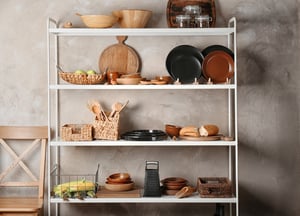 If you have room for it in or adjacent to your kitchen, add an some external storage. Whether in the form of a kitchen cart, a standing pantry, or some other spare cabinetry, anything you can do to add more storage will help make your small kitchen more effective. You can move kitchen equipment that you don't use as much to storage in the dining room, or move large food items (like boxes of rice or bags of flour) to standing pantry or kitchen cart. This will free up space in your cabinets for dishes.
Free Up Counter Space by Hanging Things
In a small kitchen, counter space can be limited, so you want to avoid storing too much stuff on the counter. The problem is, small kitchens can also be short on cupboard or shelving space. The solution is to hang things.
By installing some small hooks on the inside of cupboard doors you can hang things like large utensils and measuring cups. A magnetic strip above the counter (where there is no backsplash) can be used to hang knives. And, if you have pots and pans can be hung from specially designed hooks that are easy to hang on the wall, roof, or between cabinets.
Maximize Shelf Space by Adding Above and Below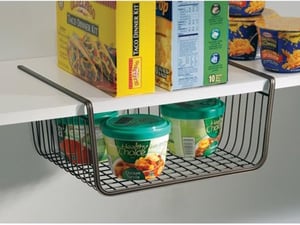 Got some extra space in between shelves? Try adding a hanging under-the-shelf basket or adding another folding "shelf" to add a second layer of things. Short items like mugs or cans are easy to double up on in one shelf, but make sure to add a shelf to avoid potential disaster of just stacking them up on tip of each other. You can get a shelf like the one here for less than $20 at WalMart.
Use a Lazy Susan to Make Corner Cabinets Accessible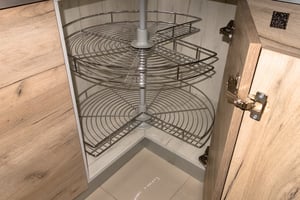 Corner cabinets are usually the biggest ones in your kitchen, but their shape and depth can mean they are hard to utilize to the fullest potential. Adding a lazy susan (you can buy them at most home improvement shops) will help you make the most of the space and still be able to access everything easily.
Organize Everything into Containers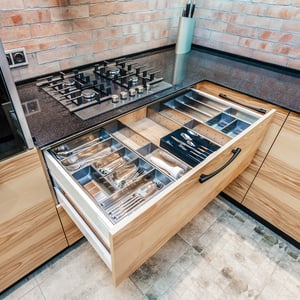 A lot of people with small kitchens don't realize how much space they could be saving by adding more containers to their kitchen. It might seem counter-productive, but a lot of space could be more effectively used if things were bundled together into baskets or containers rather than just all shoved into a drawer or cupboard. You can buy some containers, or DIY it by installing dividers into your drawers.
Invest in an Over-the-Sink Cutting Board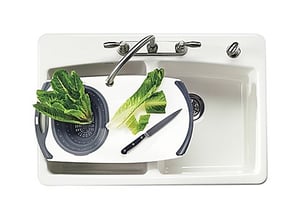 A lack of counter space can become a real problem for those who like to cook when it comes time for meal prep. A simple trick to give yourself more room is an over-the-sink cutting board. You can even get versions with built-in strainers (like this one from Bed, Bath, and Beyond) so you don't have to worry about moving the board to drain things.
Interested in Edmonton real estate? At TriUrban, we use small town sensibility, combined with modern real estate technology, to find you the perfect home. You can get personalized listings here.