Did you know there's a way to have someone else pay a significant portion of your monthly mortgage payment? It might seem too good to be true, but it's real. When you buy a suited home in Edmonton, you'll be able to reduce your mortgage payment by a substantial amount.
But Don't Suited Homes Cost More?
This is a common question we get from homebuyers who we introduce to the idea of buying a suited home in Edmonton. The truth is, yes they do – but not as much more as you think. While having a fully legal suite in your home is going to increase the initial price a little from a non-suited home, the money you'll make from having a tenant will more than pay for that.
Here's an example. Let's say a non-suited home costs you $450,000 and the suited version costs $510,000 (this is just an example, our suited homes are priced lower than this). With a 10% down payment, a rate of 3%, and amortization over 25 years your monthly mortgage payment from the non-suited home will be $1,974.14. With the exact same factors considered, and subtracting the tenant rent, the suited home's mortgage payment will be $987.36. That's nearly $1,000 less!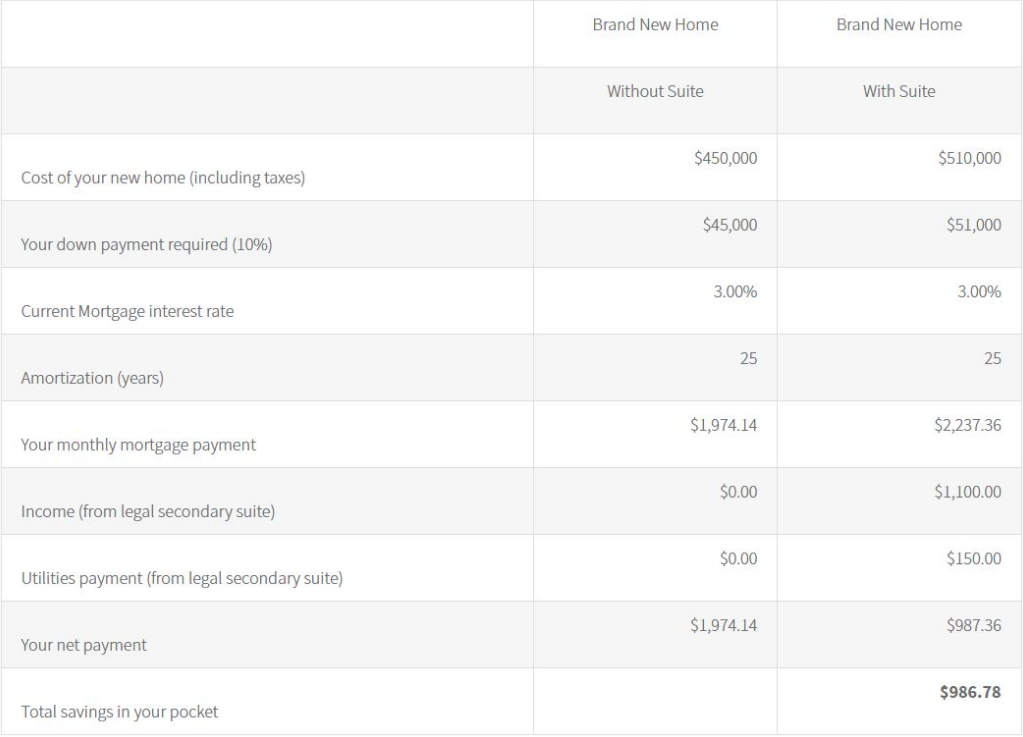 *The above financial calculations are created for demonstration purposes only. Certain inferences have been made
Are there More Benefits of a Suited Home?
Other than the significant reduction to the mortgage payment, many people ask us, are there other benefits of buying a suited home in Edmonton? Yes! In fact there are many. These other benefits include:
Mortgage Qualification Support
Having trouble getting the home you really want because you can't qualify for a large enough mortgage? Not only can a home with a legal suite help you pay your monthly mortgage payments, it can also help you qualify for a larger mortgage in the first place.
When it's known that you're going to have a suited home with a tenant in the basement suite, it will also be known that you'll have a larger additional income. So you're more likely to be able to get a mortgage that will give you the primary residence you really want.
Increased Resale Value
When it comes to Edmonton real estate, suited homes are a hot commodity, and we expect them to continue to be. There are not a lot of really great homes with legal suites for sale out there, but there are a lot of people who want to buy one. In particular, new construction, modern homes with basement suites (that's our specialty) are very sought after.
That means, when it eventually comes time to upgrade, upsize, or downsize to a new home you'll be able to sell your current home for a higher value than if it didn't have a secondary suite.
Opportunity to Keep Family Close
Many people are choosing to keep family members, like parents who are moving out of their own home, close by having the whole family move in together. If you think this is something you might do, a smart real estate decision is to buy a suited home.
That way, you can have a tenant paying your mortgage for a while, and then have room to take in family members (while still giving them their own space) when you need to.
How Can I Buy A Suited Home in Edmonton?
Have all of these great benefits got you thinking about buying a suited home? Luckily for you, we can help with that! We have a lot of great homes for sale in Edmonton with secondary suites. And it's not just right in Edmonton either. If you're looking for a home in Leduc or Fort Saskatchewan we can help with that too.
All of our suited homes are brand new construction, located in neighbourhoods we've purposely chosen because they are convenient, safe, and friendly. They have separate entrances and are completely soundproofed. The tenants get their own laundry, kitchen, and temperature controls and your mechanical room is located outside of the suites.
If you aren't really sure about the process of buying a suited home, no worries! We're here to help with every step. From real estate agents, to mortgage advisors, and more we have a team that's ready to make buying a home in Edmonton as easy as possible.
During our Home Suite Home Promotion you can get a suited home at a large discount, plus an exclusive move-in-ready package. Find out more: