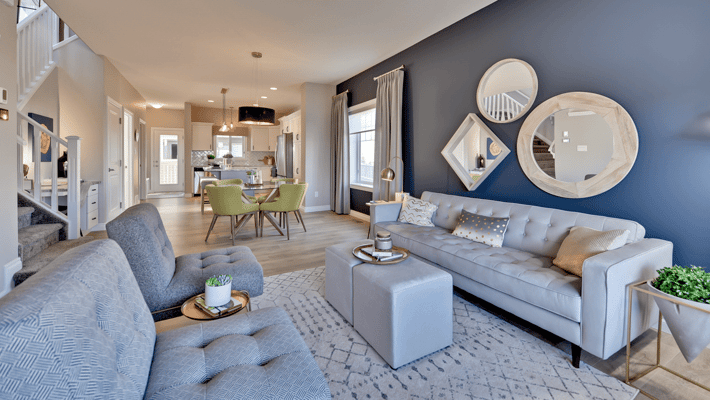 Stuck between buying a new home or a resale home? Not sure if a new home will fit your time schedule, budget, or investment strategy? Quick possession homes can be a smart choice to gain all of the benefits of a new home with almost immediate availability, a set price, and a great location.
The Home Is Ready on Your Schedule
Predictable Cost Without Upgrade Concerns
Same Warranty Protection
New Home Quality with the Convenience of a Resale Home
Quick Possessions Offers a Unique Investment Opportunity
Here are five reasons it makes sense to choose a quick possession home over a new custom home or even resale.
1. The Home Is Ready on Your Schedule
Buying new construction or even a resale home can come with an uncertain timeline or a long wait until closing. One of the perks of a quick possession is the home is already move-in ready and waiting for you. Quick possession homes are easier to fit into your time schedule with the freedom to move in when you're ready.
As a move-up buyer, a quick possession home is an easier solution than trying to negotiate on a resale home with a contingency to sell your home. Once your home sells, you know you can move into a quick possession home with a timeline that matches the closing of your current home. If you're a first-time buyer, you may appreciate the short timeline as you may not have time for a long home search and closing when leaving a lease.
2. Predictable Cost Without Upgrade Concerns
The cost of a new home can be difficult to predict as you settle on the floor plan, finishes, and optional upgrades. Even with a resale home, you don't know what the home will cost over the first five years as it may require renovations or major repairs.
A quick possession home generally has a set price for a move-in ready home. You know exactly what you are getting for your money. Because you won't be making many - if any - changes, you can easily find the right home that fits your lifestyle and budget.
If you're a first-time buyer, you can probably appreciate how much easier it is to budget for your first home with a good understanding of what you will get for your money. Move-up buyers often have a fixed budget after selling their home and benefit from knowing just what a new home will cost. If you're searching for a long-term investment, a quick possession also offers perks in terms of cost. Quick possession doesn't require tying up money for up to eight months while construction occurs, and the cost is typically lower than a custom new home.
3. Same Warranty Protection
Quick possession homes come with the very same home warranty protection as any new home in Edmonton. You will enjoy the peace of mind knowing your home is covered with 1-2-5-10 coverage through the New Home Warranty Program in Alberta, with the New Home Buyer Protection Act.
1-year protection on materials and labour such as the fixtures and flooring
2-year protection on the home's distribution systems, like heating and plumbing
5-year protection on the home's exterior including the roof, windows, exterior walls, and cladding (note: two additional years of coverage is available)
10-year protection on the home's structure - the frame and foundation
Whether you're an investor, first-time homebuyer, or an existing homeowner, no one enjoys unexpected repairs or defects. The home warranty works like a guarantee on the quality of your new home and ensures a wide variety of covered issues are taken care of.
In Alberta, there are seven warranty providers (at the time of writing) that builders work with:
Blanket Home Warranty Ltd. - WBI Home Warranty Ltd. / Royal & Sun Alliance Insurance Company of Canada (RSA)
Millennium Insurance Corporation
National Home Warranty Group Inc. - Aviva Canada Inc.
Progressive Home Warranty Solutions Inc. - Echelon Insurance
The Alberta New Home Warranty Program
Travellers Insurance Company of Canada
WBI Home Warranty Ltd. - Royal & Sun Alliance Insurance Company of Canada (RSA)
You will need to talk with your home builder about who they use and do your own research.
4. New Home Quality with the Convenience of a Resale Home
The most obvious benefit of a quick possession home is you can move in very quickly. A quick possession also has another important perk: you're enjoying a brand-new home with the same guarantees and modern amenities with the convenience of buying a resale home.
A quick possession can be available immediately, within the next 30 days, and some have a timeline of 60 - 90 days. It just depends on the builder and construction timelines. When buying a new custom home, you may need to wait anywhere from eight to 12 months while your home is built from the ground up.
As with a resale home, all of the major decisions have already been made and the home is completely or almost finished being built. The flooring has been selected along with the cabinetry, fixtures, and other finishes. Unlike resale, all of the finishes and systems are brand-new without the worry about potential repairs in the short-term.
For first-time buyers, this means worry-free enjoyment of your new home for years to come. If you're upgrading to a new home, you can enjoy a home built with the latest building techniques, modern materials, and today's features.
For investors, this means you have a great home to offer the rental market, without the worries that can come with a resale home (more on this below!). And because the timeline for it to becomes "yours" is so short, you aren't left carrying a mortgage payment for months before you can even get a renter into it.
5. Quick Possessions Offers a Unique Investment Opportunity
While many real estate investors are searching for fixer-uppers to flip, new construction is a growing niche in real estate investment. Quick possessions can be even better suited to investors with a short turnaround time, a lower cost, and a home in move-in ready condition that already features the most popular finishes and floor plans.
By investing in a quick possession home, you can be sure you're investing in a great location that's likely up-and-coming. This means it'll be easier to find quality tenants and a better chance of building equity as the area matures. A quick possession home also comes with everything tenants are looking for with warranty protection and brand-new systems and appliances for reduced property maintenance costs.
A quick possession home is a perfect solution for the long-term real estate investor. Most quick possession homes offer you a great value with long-term gains. In fact, a quick possession home can be a better deal than building new as home builders want to move this product quickly.
As you can see, quick possession homes come with many unique perks no matter why you're buying a home. First-time buyers love quick possessions because they benefit from a brand-new, hassle-free home in a great area that they can move into quickly. Move-up buyers appreciate the predictable cost and modern features of a quick possession home. Even investors are increasingly turning to quick possession homes as part of a long-term investment strategy. If you're considering buying a new home, these are just some of the reasons to consider a quick possession.
If you are considering buying a quick possession home, contact our experts at TriUrban and let us bring your dream of homeownership into reality.