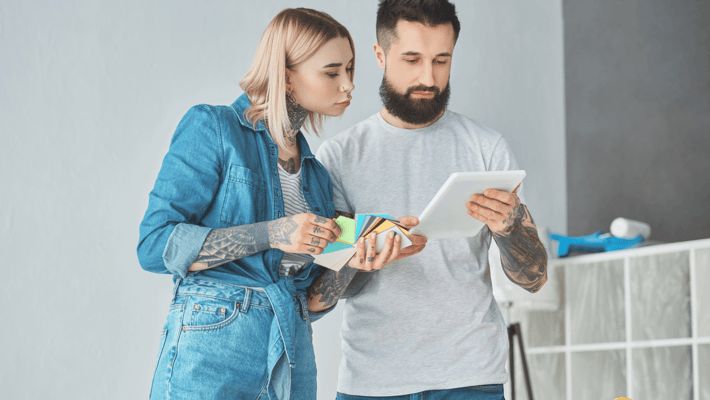 If you live in an older home, you've probably made a lot of repairs to both its interior and exterior over the years. Are the repairs beginning to get more costly as well as more extensive? If so, you may want to consider upgrading into a new home.
Discover several benefits of moving out of your older home into a brand-new one.
Start Afresh with New Appliances, Fixtures and More
Moving into a brand-new home gives you and your family a fresh start. The plumbing and electrical systems in a new home have no wear and tear. The appliances in the kitchen including the dishwasher, stove, oven, refrigerator and microwave have never been used. Last, but not least, in a new home, you get to enjoy your appliances and more without worrying about what the next repair will be.
A New Home's Construction is Up to Code
The construction work and materials in an older home may not meet current building standards and codes. An example of this is the presence of lead paint in older homes or a 60 amp electrical service instead of the current 100 amp service. If you buy a new home, you can enjoy peace of mind knowing it meets the proper building codes and standards.
Save Money on the Upkeep of Your Home
Whether you find yourself shelling out large chunks of money for home repairs every few months, or you're getting nickel and dimed each week, you can save money by purchasing a brand-new home. Once you purchase the home, you'll experience the relief of not dedicating the bulk of your household budget to repair work. Depending on how old your home is, it may never stop being a fixer-upper.
Move to a New Home to Increase Your Comfort Level
One of the main complaints about older homes is they are cold in the wintertime. One major reason for this is the windows in an older home are not properly insulated. Do you put up with cold drafts in your older home every winter? A brand-new home is built with properly insulated windows designed to keep the cold winds outside and the warm air inside during winter.
A brand-new home can boost your comfort level in another way. Many new homes are built with smart technology designed to control your modern furnace and air conditioner. So, not only is the atmosphere comfortable for you and your family year-round, you can lower your utility bills with energy-efficiency.
Get the Rooms and Extras You've Always Wanted
Just think. Choosing to move into a new home means you can get the rooms, space and modern design details you've been looking for. Maybe your current home has just three bedrooms, but you'd really like to have one or two more to make into a guest room and an office. You can select a new home with a design allowing you to get those rooms.
Perhaps you have a friend who owns a home with a mudroom. Since touring her home, you are stuck on the idea of having a mudroom where your family can hang their wet coats, hats and umbrellas. Buying a new home gives you the opportunity to have a mudroom or any other preferred spaces you'd appreciate.
Other desirable features you may want in a new home:
A walk-in closet in the bedroom
A kitchen island
A double sink in the bathroom
A conveniently located laundry room
Receive a New Home Warranty
A new home warranty will be very appealing to someone who owns an older home with a long history of repairs and replacements. As the owner of a new home, you're getting new appliances, electrical, plumbing, etc. Plus, you have a warranty giving you peace of mind if any issues arise during the period of coverage.
Get a Home Suitable for Your Changing Needs
The amount of space in your current home was acceptable when you moved in. Now, your needs are different. Maybe you've started a catering business and need more counter space to work on orders for clients. You could select a brand-new home with a kitchen island and tons of counter space in its design.
Maybe you have two school-aged children and plan to expand your family with the addition of twins within the year. Congratulations! You'd like a home with two large bedrooms for your school-aged children along with a spacious nursery for the twins scheduled to arrive very soon. A brand-new home can provide airy, large bedrooms ready to be decorated any way you want.
Move to a Preferable Neighbourhood
Don't forget that moving to a brand-new home means you're moving to a new area as well. Perhaps you've been thinking about upgrading to a safer neighbourhood or one with more green space. If so, you can choose a new home in an area where you and your kids can enjoy your surroundings as well as the home you live in!
If you're interested in purchasing a new home in Edmonton, contact us today. We're dedicated to finding individuals and families new homes to suit their needs and preferences. We are confident we can help you and your family find the brand-new home you're dreaming of.